Asthmatic inflammation can occur throughout the tracheobronchial tree — in both large and small airways.1,2
Inhalers with small drug particle sizes (<2 μm) have been shown to have significantly more lung deposition (>50%) than those with larger3 particle sizes (<20%). Small ICS particles (<2 μm) are also more likely to reach the small airways (defined as <2 μm in diameter) where they can exert their anti-inflammatory effect.2
Help Your Patients Save with the Alvesco® Savings Card!
With the Alvesco Inhalation Aerosol Savings Card, your patients can reduce each co-pay to as low as $17.* Patients can save up to $75 each time they fill an Alvesco Inhalation Aerosol prescription, potentially adding up to $900 of savings annually.*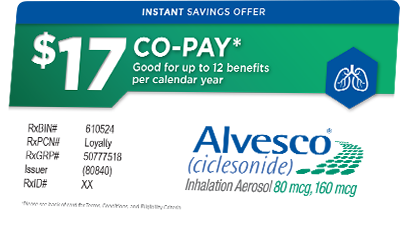 Alvesco® Inhalation Aerosol has a small particle size. Its small size (1-2 μm) enables Alvesco to penetrate both large and small airways, to deliver asthma medicine to the places where it may help to reduce airway inflammation4,5†
† ALVESCO is indicated for the maintenance treatment of asthma as prophylactic therapy in adult and adolescent patients 12 years of age and older.
Important Limitations of Use:
ALVESCO is NOT indicated for the relief of acute bronchospasm
ALVESCO is NOT indicated for children under 12 years of age
*Most insured patients will pay no more than $17 monthly with a maximum benefit of $75 per fill. Restrictions apply and co-pay amounts may vary. Subject to eligibility rules; restrictions apply. This coupon is not valid for prescriptions that are eligible to be reimbursed, in whole or in part, by Medicaid, Medicare (including Medicare Part D and Medicare Advantage), TriCare, CHAMPUS, or any other local, state or federal healthcare programs, including state prescription drug assistance programs and the La Reforma de Salud program in Puerto Rico.
The Alvesco Savings Card program is not valid in the state of Vermont and the Alvesco Savings Card is not eligible for redemption by patients in Vermont.
References:
Hamid Q. Pathogenesis of Small Airways in Asthma. Respiration. 2012;84:4 -11.
van der Wiel E, ten Hacken NHT, Postma DS, van den Berge M. Small-airways dysfunction associates with respiratory symptoms and clinical features of asthma: A systematic review. J Allergy Clin Immunol. 2013;131:646-657.
Leach C, Colice GL, Luskin A. Particle size of inhaled corticosteroids: Does it matter? J Allergy Clin Immunol. 2009;124:S88-S93.
Alvesco® Inhalation Aerosol Prescribing Information. Marlborough, United Kingdom: Sunovion Pharmaceuticals Inc.; January 2013.
Newman S, Salmon A, Nave R, Drollman A. High lung deposition of 99mTc-labeled ciclesonide administered via HFA-MDI to patients with asthma. Respiratory Medicine. 2006;100:375-384.